Information -latest news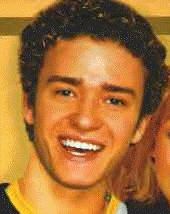 News for: April 15, 2001
Vote For Nsync!
Vote for Nsync for the Nickelodeon Kid's Choice Awards! www.nick.com
What would Nsync charge for a private concert? From: Jane mag.
Want JC, Justin, Chris, Lance and Joey to put on a private concert for you? Then be ready to cough up a cool $1 million US. Great entertainment doesn't come cheap these days. Check out how much other celebrities charge for their time: * Jennifer Lopez: $750,000 per hour * Elton John, *NSYNC, Backstreet Boys: $1 million per private concert * Former president George Bush, Al Gore, Jay Leno: $100,000 per lecture * Dennis Rodman: $75,000 per appearance (body piercing demonstration is extra) * Ellen DeGeneres: $35,000 per appearance
Nsync does great on TRL top twenty
Nsync scored big on the top twenty countdown, having three videos that aired on the highly rated show TRL@ Your House. Videos which included NSYNC's 'I Drive Myself Crazy', 'Tearin' Up My Heart', and 'Bye Bye Bye,' which ranked number, missing the number one spot to the Backstreet Boy's 'I Want It That Way'. The Nsync guys had the most played amount videos on the count down. Go Nsync!
A novel idea from Justin From: BBC
*NSYNC star Justin Timberlake has just signed a seven-figure deal to write his first novel. It's pretty much unheard of for a young celeb to get that much with their first go at fiction. But Ballentine Books are banking on his millions of fans - and the Britney boyfriend connection - to boost sales. The book will be called 'Crossover Dribble' - no plot details have been released as yet. O-Town Issue Threat to *NSYNC
'NSYNC Tour Will Give Fans A Taste Of Celebrity from www.mtv.com
LOS ANGELES — 'NSYNC will make the songs on Celebrity famous this spring, before the album even comes out.
The pop stars say they'll be generous with music from the record during their upcoming tour, which kicks off more than a month before the LP's release.
"It's kind of like we're being Napster on the road," Chris Kirkpatrick told MTV News' Chris Connelly at the Blockbuster Entertainment Awards on Tuesday.
'NSYNC's PopOdyssey tour gets underway May 18 at Alltel Stadium in Jacksonville, Florida, while the follow-up to No Strings Attached (2000) hits stores on June 26. The boy band is scheduled to play 45 dates in 38 cities.
"We hope that everyone's not sick of us," Justin Timberlake said.
"Because I'm sick of us," Kirkpatrick said.
The group has not yet chosen Celebrity's first single, but will do so next week, JC Chasez said.
Timberlake, Kirkpatrick and Chasez attended the awards show without Lance Bass and Joey Fatone, who are in Toronto shooting the film "On the L."
In other 'NonSYNC news involving the boys, Timberlake said he recently met with Michael Jackson to discuss a possible collaboration.
"I had a couple meetings with the man himself, and he's an extraordinary artist. He kicked me out of the meeting 'cause I wouldn't stop asking for autographs," Timberlake joked. "So I don't know how far it's going to go."
—Teri vanHorn

'NSYNC PopOdyssey Tour Dates Change from: www.mtv.com

'NSYNC's highly anticipated summer tour, PopOdyssey, is apparently such a spectacle, the group has been forced to delay opening night by six days to properly prepare.
The outing is now scheduled to kick off May 18 at Alltel Stadium in Jacksonville, Florida, according to promoters. The previous opening night, May 12 at Pro Player Stadium in Miami, Florida, has been moved to August 2.
Other dates have been changed (May 15 in Tampa, Florida, to July 31; May 24 in Atlanta, Georgia, to August 11; June 6 in Cincinnati, Ohio, to June 8; June 12 in Philadelphia, Pennsylvania, to June 13; June 29 in Detroit, Michigan, to June 30; August 10 in Louisville, Kentucky, to August 9), deleted (May 22 in Charlotte, North Carolina; July 31 in Las Cruces, New Mexico; August 18 in Memphis, Tennessee) and added (August 18 in Pittsburgh, Pennsylvania; August 22 in New Orleans, Louisiana).
Extra time was needed by the production staff to complete the tour's staging, according to a press release. Promoters said the 88 trucks it will require to carry the production make PopOdyssey the largest tour in pop history.
"['NSYNC] wanted to make sure that all their fans got the full effect of this dynamic tour," Brad Wavra of SFX, the tour's promoters, said in the release. "We, along with the group, regret any inconvenience this schedule change may have caused for the fans. We promise this tour will be a musical extravaganza for the record books."
Refunds will be given to fans who purchased tickets to canceled shows.
'NSYNC is scheduled to play 45 dates in 38 cities. Television-spawned pop group Eden's Crush will join the group on June 19 and open for the remainder of the tour (see "'NSYNC Set Hearts On 'Popstars' For Tour").
In other 'NSYNC news, marionettes of the group, like those featured in their "It's Gonna Be Me" video, are for sale beginning today at www.nsyncdirect.com.
Each $300 puppet is two feet high, weighs four pounds and comes with a certificate of authenticity signed by the band member depicted. Only 440 marionettes are available. A portion of the proceeds will go to 'NSYNC's charity, Challenge for the Children.
'NSYNC are in the studio recording tracks for their next album (see "'NSYNC To Release Celebrity On June 26"). Jive Records hopes to release the first single by the end of April.
'NSYNC PopOdyssey tour dates, according to SFX:


5/18 - Jacksonville, FL @ Alltel Stadium
5/20 - Jackson, MS @ Mississippi Veterans Memorial Stadium
5/26 - Hershey, PA @ Hershey Park Stadium
5/28 - Hershey, PA @ Hershey Park Stadium
5/31 - Foxboro, MA @ Foxboro Stadium
6/1 - Foxboro, MA @ Foxboro Stadium
6/3 - East Rutherford, NJ @ Giants Stadium
6/8 - Cincinnati, OH @ Cynergy Field
6/10 - Buffalo, NY @ Ralph Wilson Stadium
6/13 - Philadelphia, PA @ Veterans Stadium
6/16 - Chicago, IL @ Soldier Field
6/19 - Toronto, ON @ Skydome
6/22 - Cleveland, OH @ Browns Stadium
6/24 - Minneapolis, MN @ Metrodome
6/26 - Milwaukee, WI @ Miller Park
6/30 - Detroit, MI @ Comercia Park
7/2 - St. Louis, MO @ Trans World Dome
7/4 - Little Rock, AR @ War Memorial Stadium
7/6 - Houston, TX @ Reliant Astrodome
7/8 - Dallas, TX @ Texas Stadium
7/10 - Kansas City, MO @ Arrowhead Stadium
7/13 - Denver, CO @ Mile High Stadium
7/16 - San Diego, CA @ Qualcomm Stadium
7/18 - Scottsdale, AZ @ Bank One Ballpark
7/21 - Oakland, CA @ Network Associates Coliseum
7/24 - Pasadena, CA @ Rose Bowl
7/27 - Las Vegas, NV @ Sam Boyd Stadium
7/31 - Tampa, FL @ Raymond James Stadium
8/2 - Miami, FL @ Pro Player Stadium
8/5 - San Antonio, TX @ Alamodome
8/7 - Birmingham, AL @ Legion Field
8/9 - Louisville, KY @ Cardinal Stadium
8/11 - Atlanta, GA @ Georgia Dome
8/13 - Washington, DC @ RFK Stadium
8/16 - Indianapolis, IN @ RCA Dome
8/18 - Pittsburgh, PA @ Steeler Stadium
8/22 - New Orleans, LA @ Louisiana Superdome
*NSYNC Take Charge in New Recordings
The boys of *NSYNC want to make it clear: They are in charge of their own recordings. When they release their album Celebrity on June 26, member Chris Kirkpatrick says it should be obvious who produced the record. "You'll hear the next level ... you'll hear our sound changing a bit but I think the most important thing is that we're sitting down and producing this album, were finding the musicians to play on the tracks that we've written," he says. "I think out of the eight to 10 tracks we've written, that we've done so far, two of them were done by other producers so the rest has all been done by us," adds Kirkpatrick.
O-Town Issue Threat to *NSYNC
O-TOWN have issued a threat to *N SYNC, telling NEM.com that the boy band should be "pretty worried about shooting off their mouths". In an interview with NME.COM , Jacob from O-Town blasts *N Sync's Lance Bass for comments he made about O-Town. "I think it's really bold of him to open his mouth and start shooting off about us because he knows where we came from and we're working with the same people that put *N Sync together," he fumes. "I'm kinda worried that we might let out some secrets 'cos we've found out some stuff about how real or not real they are. I'd be pretty worried if I was him if he wants to keep shooting off his mouth."
"I think he was a lot safer when he was commenting on the people we were working with," Erik continues, "but he made a big mistake when he commented on us as a band. We're going to do things that are going to surprise a lot of people. I feel really bad when people have to eat their words."
Dan from the band adds: "I think we have just as many qualities as *N Sync, though we're not as big as them. They were put together and they didn't really have a reason to be put together; we did because we had a TV show. I think it's a double-standard for him to say anything."
News for: Feb 18, 2001
*Nsync getting injured while on tour
JC says, "We do a mad show and getting hurt is just part of it…you just get wrapped up, taped up and sent back out again. Justin and me have both chipped our teeth on microphones. Joey and Chris and Lance have messed up their ankles quite a bit. Chris hurt his knee and Justin broke his arm."

But JC says that the band doesn't mind a little physical pain in turn for a good show. "It's just part of going out there! Once that crowd is in front of you, you don't think about it. The adrenaline takes over and you forget about the pain."

*'NSYNC Line Up Early Dates For 2001 Tour
Although 'NSYNC are still working on their new album, they've gone ahead and announced five dates for an upcoming summer tour, tentatively set to begin on May 12 in Miami.
Tickets for the five shows, which include stops in Tampa, Florida; Jacksonville, Florida; Jackson, Mississippi; and Hershey, Pennsylvania, will go on sale Saturday via Ticketmaster.
BBMak have been tapped to open the Miami show as well as the May 15 concert in Tampa, and additional dates are expected to be added in between the five that have just been confirmed.
'NSYNC's label, Jive Records, is mapping out the rest of the itinerary — including a full roster of support acts — for the band's still-unnamed tour, which is expected to continue through August.
The group's next album, the follow-up to the 10-million selling No Strings Attached, is due in June.
The first five dates of 'NSYNC's summer tour, according to Jive: 5/12 - Miami, FL @ Pro Player Stadium
5/15 - Tampa, FL @ Tropicana Field
5/18 - Jacksonville, FL @ Alltel Stadium
5/20 - Jackson, MS @ Mississippi Veterans Memorial Stadium
5/26 - Hershey, PA @ Hershey Park Stadium
—David Basham, with additional reporting by John Norris
*Index Ranks 'NSYNC As 2000's Biggest Music Stars

In 2000, you better believe 'NSYNC "Just Got Paid" — and we're not talking about the Johnny Kemp cover on their smash album No Strings Attached.
The Orlando, Florida, group made $267 million in U.S. album sales and tour revenues alone last year, according to the VH1/Money Rock Star Index. The channel and financial magazine teamed to rank musical artists based on CD sales, tour revenues, "money power" (including merchandising, endorsements and licensing) and "star power" (considering such factors as fan loyalty and crossover appeal).
The 10-times platinum No Strings Attached holds the record for selling the most copies in a single week — 2.4 million flew off shelves in the album's first week of release in March.
Dr. Dre and Eminem, whose revenues were combined because they toured together, bow in at #2, with $249,900,000 in album sales and tour revenues.
The rappers are followed by Britney Spears, husband-and-wife country singers Faith Hill and Tim McGraw (also combined due to their joint tour) and the Backstreet Boys.
The rest of the top 10 is Santana, Creed, the Dixie Chicks, Tina Turner and Christina Aguilera.
The index also includes Tina Turner (ranked #9) and Kiss (#13), who made a fortune in 2000 by "retiring" with farewell tours. Moby, #23, made an estimated $16 million by licensing songs from his album Play over 800 times in movie soundtracks, commercials and TV shows.
The figures are based on research by Money, VH1, sales data service SoundScan and concert industry magazine Pollstar.
The chart below reflects only the rankings, CD sales and tour revenue information provided by the VH1/Money Rock Star Index and does not include the mitigating factors of "money power" and "star power."


RANK ARTISTS CD SALES TOUR REVENUE
1 'NSYNC $190,600,000 $76,400,000
2 Dr. Dre $73,000,000 $22,200,000
Eminem $154,600,000
3 Britney Spears $162,700,000 $40,500,000
4 Tim McGraw $55,100,000 $48,200,000
Faith Hill $67,300,000
5 Backstreet Boys $122,800,000 $25,800,000
6 Santana $119,200,000 $26,100,000
7 Creed $131,200,000 $26,200,000
8 Dixie Chicks $79,400,000 $47,300,000
9 Tina Turner $14,000,000 $80,200,000
10 Christina Aguilera $81,200,000 $13,500,000
11 Dave Matthews Band $24,600,000 $69,800,000
12 Sting $42,800,000 $28,900,000
13 Kiss $8,400,000 $62,700,000
14 Red Hot Chili Peppers $45,100,000 $31,100,000
15 Ricky Martin $33,200,000 $37,200,000
16 Destiny's Child $66,500,000 $1,100,000
17 Sisqó $59,400,000 $900,000
18 Madonna $42,300,000 $0
19 Bruce Springsteen $11,200,000 $45,900,000
20 Jimmy Buffett $19,300,000 $24,100,000


*Destiny's Child, 'NSYNC To Honor Janet Jackson

Destiny's Child, 'NSYNC, Macy Gray and Outkast will give it up for Janet Jackson in the inaugural "mtvICON," a new annual special honoring artists who've influenced music videos and who've had a significant impact on fans and other artists.
"mtvICON: Janet Jackson" will air on March 13 and will feature an overview of Jackson's 16-year recording and video career, as well as interviews with artists whose careers have been influenced by Jackson. The night's performers will each cover a Jackson song, though their particular selections were unavailable at press time.
"Janet Jackson is an awesome individual," Destiny's Child's Michelle Williams said in a statement. "Her music has always kept me dancing. ... She is the total entertainer."
'NSYNC will perform a "special vocal tribute," and Jackson herself will sing the show's finale.
Jackson is wrapping up a new album with producers Jimmy Jam and Terry Lewis (see "Janet Jackson Readying Upbeat, Carefree Album"). No release date has been set.
*Nsync Performing At Grammys

The list of Grammy performers keeps growing, with Macy Gray, Sheryl Crow, Jill Scott, Shelby Lynne, Moby and Blue Man Group joining 'NSYNC, Christina Aguilera, Destiny's Child and the hotly anticipated Eminem-Elton John duet on the lineup.
Gray is up for three awards — Record of the Year, Song of the Year and Best Female Pop Vocal Performance for "I Try," from her On How Life Is release.
Seven-time Grammy winner Crow will perform with Lynne, whose leap last year from straight country into Memphis soul earned her a Best New Artist nomination. I Am Shelby Lynne finished #5 in the recently announced Village Voice "Pazz & Jop" critics' poll.
Moby, Scott and the popular performance artists Blue Man Group will perform together. Scott is up for three awards, while Moby's "Natural Blues" is up for Best Dance Recording and Blue Man Group are nominated in the new Best Pop Instrumental Album category for Audio.
The Grammys also announced Wednesday that "TRL" host Carson Daly, Sisqó, Gloria Estefan and Tony Bennett have joined the show's list of presenters. The awards will be held on February 21 at the Staples Center in Los Angeles, and will be broadcast live on CBS from 8-11 p.m. ET. (MTV.com's parent company, Viacom, also owns CBS.)

*JC Brought A New Home - 4 BR, 4 BTH hilltop house in the Hollywood Hills Price $1.1 Million
It's a buy, buy, buy for *NSYNC's JC Chasez, who just moved into a 4,000-square-foot L.A. home that sources say is within sight of Britney Spears' new pad. (The teen queen paid a reported $3 million a few weeks ago for her 6,000-square-foot fortress.) EW has learned Chasez bought the three story abode last spring and made extensive renovations. The half-acre spread boasts two fireplaces, a gourmet kitchen, a two-story master bedroom, and sweeping city views. Note to Britney and her beau, fellow *NSYNC-er Justin Timberlake: keeps the shades drawn! * to see JC's house check out the houses section.
*Dates for Nsync's tour: Sat., May 12 -- Miami, FL -- Pro Player Stadium
Tues., May 15 -- Tampa, FL -- Tropicana Field
Fri., May 18 -- Jacksonville, FL -- Alltel Stadium
Sun., May 20 -- Jackson, MS -- Mississippi Vets Memorial Stadium
Tues., May 24 -- Atlanta, GA -- Georgia Dome
Sat., May 26 -- Hershey, PA -- Hershey park Stadium
Mon., May 28 -- Hershey, PA -- Hershey park Stadium
*More are to be added. For the complete list, check out the appearances section.
----->For older news click here!