Questions & Answers/ Interviews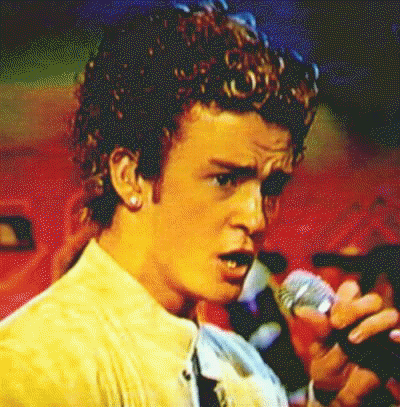 For: Feb 19 2001,

"Guess what I Did?!" on hand with the rest of *NSYNC for their TEEN PEOPLE shoot at Chelsea Piers in NYC, Justin Timberlake feels compelled to butt in on a table full of people deep in conversation. "This is worth the interruption," he continues by way of apology. "Last week I went skydiving! Funny thing was, I thought I was going to be really scared. But I wasn't at all!"

Of course he wasn't: Justin and his group mates - Lance Bass, JC Chasez, Joey Fatone and Chris Kirkpatrick - have been flying high for some time now. Y2K was a dream year for the quintet, which not so long ago was considered by music industry insiders to be little more than a wannabe Backstreet Boys. But *NSYNC's No Strings Attached - the No. 1 album that launched a trio of hits, including their first chart-topping single, "It's Gonna Be Me" - changed all that, propelling the group to phenomenon status. The album's success led to a sell-out concert tour; a slew of accolades, including three MTV Video Music Awards and three Billboard Awards; their own specials on HBO and FOX; and notable performances at the Oscars, the American Music Awards and the Latin Grammy's.

On this chilly October day, the guys look back over the events of the last 1- months. JC thinks it was their omnipresence that put *NSYNC over the top. "I think it was the footwork we did," he says. "We toured forever. We had four days off for Christmas, and that's it."

Lance has a different theory. "'Bye Bye Bye' was just phenomenal. [A huge first single] sells albums," he says. Chris nods in agreement; "'I Want You Back' and 'Tearin' Up My Heart' were big but 'Bye Bye Bye' was our first timeless song."

Joey credits the resolution of *NSYNC's legal battles with its former label, RCA Records (the group is now on Jive Records, also home t o Backstreet Boys and Britney Spears): "When that whole lawsuit went down and we finally got control people were like, 'I Want to see what they're going to do.'"

Just offers yet another explanation. "It's our realness," he says. "People appreciate our music, but I think they feel like they can talk to us."

Even with everything they've accomplished, the guys remain unjaded. JC is ecstatic about getting a Simpsons photo signed by creator Matt Groening ('NSYNC wil guest-star in a 2001 episode). Chris is still starry-eyed from meeting his idol Paul McCartney at the MTV Video Music Awards. "He shook my hand," he says. "It was real quick in the hall, but it was one of those things that you remember forever."

An event that would no doubt rank high on Justin's list of unforgettable events: girlfriend Britney Spears's choice to go public with their relationship. "That was her decision," says Justin. "I've always told her, if that's something that she wanted to do, then I didn't mind. It's so hard to have a relationship period." He's confident, though, that the romance can survive the inevitable media scrutiny. "If you really love somebody, nothing can get in the way. 'Look I love you, you love me, that's it.' Problems are going to come and go… She and I complement each other. She breathes fresh air into me; she's like a reality check. She's absolutely wonderful, and absolutely beautiful person, inside and out. When [negative] things are said about her, I take offense to them even more than she does."

Joey weighs in, characterizing the superstar pair as completely down-to-earth. "When they come together," he says, "it's like, 'What do you want to do?' 'Let's sit down and watch TV.' Stuff like that."

Justin is lucky to have a girlfriend who understands the demanding schedule that comes along with pop supstardom. Although *NSYNC could easily demand some downtime these days - as of this interview, No Strings has sold 9 million copies - the band hasn't slowed down one bit. This morning for example, they awoke before dawn to perform on Good Morning America; hours later they arrive wide-eyed and eager to do this interview and post for their Teen People cover. Talk about an impressive work ethic! "That's why groups come and go - they don't work like they did in the beginning," JC explains. "Like Madonna - you think she hangs out every day? No. What do you think Prince does? He's sitting in his studio right now. The people who put the time in and work their tails off, those are the people you end up respecting in the years to come."

Accordingly, the guys know that their next CD, schedule for release in June, is all the more important. "We're not going to tour while we do the album," says Lance, who anticipates heading into the studio this month. "That's what we've done for the last two. If we focus and relax and sit in one city for a couple of months, it's going to be that much better."

So what's in store for fans? Something even more unexpected than the surprisingly funky and hard-edged No Strings Attached. "Everybody was sticking to guitar pop, and we took it to space beats," says JC, alluding to No String's tracks "Space Cowboy" and "Digital Getdown". "Now you hear everybody trying to do something digital in their songs." Adds Chris: "It's going to have some harder guitars. It's going to scare some people because that's what good music does. But they'll eventually come back around and realize that it's innovative."

Eventually *NSYNC hopes to expand it's empire beyond music, but the road to Hollywood has been rocky. Recently the boys dumped the film project Why Can't I Be You? for creative reasons. "It was like an edgy She's All That," says Chris. "[But] we don't want to do another American Pie or something that's been done." Also scrapped: plans for the group to star in Grease 3 (that was the working title). While waiting to make their next movie move, *NSYNC has other concerns, among them the upcoming Grammy nominations. Last year the group scored two nods, including Best Pop Vocal Collaboration for "Music of My Heart," its duet with Gloria Estefan. Now they're gunning for their first solo nomination. "I'm gonna puke, dude," says JC of the building suspense. "I'm scared. I'm really really nervous."

But the group remains confident. "We're hopeful that something will get nominated because the album was so big," says Lance. "Nominations are great. And to perform. That's just what I want to do. We're crossing our fingers - nothing guaranteed."

Including longevity. "People are going to stop putting posters up on the wall in a while," says Chris. "Seven or eight years from now, there are not going to be hundreds of girls outside our hotels waiting for us just so they can get a glimpse. We're realistic. We hope that we can evolve." Songwriter Diane Warren, who penned "Music of My Heart" and the No Strings track, "That's When I'll Stop Loving You," thinks they'll do just that. "They have the best shot at longevity," she says. "They sing their butts off; they're unaffected by their success; they're really apart and they're all entrepreneurs." All five *NSYNCers have embraced outside projects: Joey recently filmed a small role in My Big Fat Greek Wedding, a romantic comedy due this spring; Lance manages country artists Jack Defoe and Meredith Edwards, who has opened for *NSYNC and whole self-title debut album is due on Mercury Records in March; Chris's clothing line, FuMan Skeeto, recently premiered at Nordstrom department stores and has its own Web site; JC wrote and co produced "Just Another Girl," the first single from Wild Orchid's upcoming CD; and Justin dabbled in acting with a role in the March 2000 TV movie Model Behavior. It seems their solo successes have only intensified the five friends' determination to achieve more together. "We still have a place in our career that we're string to get to," says Justin. "I definitely don't feel that we're arrived yet. 'Gratified, never satisfied.' That's always been our motto. There's always somewhere else to go."

--------------

Carson interviewing Chris:

CARSON: What are the guys doing right now?
CHRIS: Justin is up front eating, and JC is flying in from New York

CARSON: Why are you so cute?
CHRIS: I have no idea. I don't think I am. I just play one on TV.

CARSON: What is Justin getting Britney for Christmas?
CHRIS: I couldn't give it away. It's hush hush
CARSON: that means jewelry

CARSON: If you could make-over one of your fellow band mates in *N SYNC, who do you think would need it the most?
CHRIS: Probably me. I like the Ricki Lake's and Maury Provich's. I'm always up for a make-over.

CARSON: Have you ever hooked up with a fan?
CHRIS: Are you kidding me? My girlfriend would kill me.

CARSON: What is the most illegal thing you've ever done?
CHRIS: When I was little, I used to steal a lot of from the grocery store. I used to get in big trouble from my mom
Justin screams, "There's a pretty boy on TV."

CARSON: This is from Darren in Oklahoma. Does Justin free ball?
CHRIS: From Darren in Oklahoma? (for Justin): only on Fridays

'N SYNC - PEOPLE OF THE YEAR (interview with Justin and Chris)

They came, they saw, they sold 2.4 million records in a week

Making that musical transition from boys to men can be tricky. Thus far the members of 'N Sync appear to be making this leap with remarkable success. Their second album, No Strings Attached, sold a record-breaking 2.4 million units in its first week of release this spring. Things haven't slowed down that much since then, either, with nonstop touring (another leg of shows was to begin in November). Recently, 'N Sync's Justin Timberlake and Chris Kirkpatrick took a few minutes from making the music they call "dirty pop" to discuss their year of living massively. What's the best thing that happened to you in 2000?
JUSTIN: We've gone from just another one of those other groups to 'N Sync. I just think it's the year we showed everybody that we're musical, that we're not just poster boys. Before this year, everybody kind of saw us as one of those groups, and I think we definitely made our point -- we're doing our thing. Hopefully we can bring out another album, maybe next year, and do it all over again.
CHRIS: The first-week sales of the album, coming out of the chute so quick. We weren't expecting that kind of response right off the bat.

Now that you've achieved world domination, what are your plans and goals for 2001?
JUSTIN: We're going to go back into the studio in January and February to see what we can start cooking up, and we'll take it from there. We're at a place now where we're comfortable, and now it's just about taking our time, going into the studio and making quality stuff for our audience.

Clearly things are going great for the group, but is anything disappointing about this past year?
JUSTIN: I'm glad that we haven't become really jaded, because we've been screwed over a lot of times as far as the business goes. But, really, I can't complain. We've got a hit record and it's at the top of the charts, so I can't sit here and bitch and moan about anything that's going on right now. You get some bumps and bruises when you go on the road and, you know, you meet people you wish you hadn't met, but then you also meet people you're glad you met.

What's one secret fantasy you have for the coming year?
JUSTIN: To get some sleep. No. I think it would be fun to work with some other artists, like maybe Stevie Wonder or Brian McKnight or somebody like that.

What's the best thing you heard this year music wise?
JUSTIN: D'Angelo's Voodoo was good-quality music.
CHRIS: D'Angelo and The Nutty Professor soundtrack.

What's the best thing you read this year?
JUSTIN: You mean like a book?

A book, a magazine, anything.
JUSTIN: One of my friends turned me onto Conversations With God. I thought that had a lot to say.

And what's the one thing you're going to change in the next year?
CHRIS: Um, my underwear?

Finally, anything you want to say to your older fans?
JUSTIN: Yeah. Thanks for thinking we don't suck.

From - Rolling Stone 2000

----->for older questions and answers click here!