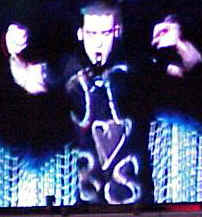 The picture above has nothing to do with the article, but during the new concert Justin wore a shirt thats says 'JT loves BS'! He made a tribute to Britney. He doesn't care what people think of him and her. I don't know I just think it's kind of funny. But cute =)
Cover Story- Britney Can't Wait
Sexy, rich and powerful, the 19-year-old-star is ready for the next chapter in her life.
It was four months ago, and Britney Spears hardly seemed like a girl who was about to make big changes in her life. When Us weekly visited, she was curled up in a plush chair--all five-foot-five inches and 120 pounds of her sinewy muscle and sex appeal blanketed in blue sweats-- recovering from the flu. She looked pale and low on energy. "I never get sick," She moaned. "I hate it." But that was yesterday. "I'm feeling better now," she said.
It must have helped to have received a dozen jumbo pink roses earlier that morning from her boyfriend, 'Nsync's Justin Timberlake, 20, because now she is currently well enough to have devoured eggs Benedict and a side of cheese grits for lunch without once concerning herself with calories, cholesterol or a recurrence of her bad stomach. And well enough to close her beautiful brown eyes, look into the future and wax dreamily about the next absolutely crucial steps (including a big secret) in her life as a 19-year-old pop icon, sex symbol, trendsetter and soon-to-be movie star and independent woman about Los Angeles. "I don't feel more grown up....I definitely feel change going on around me," she says. "And I'm all about change."
Cut to the present. The plan has been set in motion. Tired of hotels, Spears paid a reported $3 million for a six-bedroom Mediterranean-style home with a pool in the Hollywood Hills of California and now has, she says, "a place where if I want to, I can walk around in pj's, go outside and just act normal." And what about the secret project she had mentioned in her sickroom? That turned out to her her dazzling Pepsi commercial, which debuted in March during the Academy Awards and put millions in her back pocket. "It's the biggest deal since Michael Jackson's 15 years ago," says her co-manager Larry Rudolph. At the same time, the recording of her third album got under way, and last month she wrapped up her first movie, What Are Friends For?, a coming-of-age road story that she helped create. "It's a teen movie, but not too teeny-bop cheesy," she says. "When I read it, I was crying."
Wait, there's more: Harper's Bazaar wants her for it's cover this season. And so does Vogue. She begins touring in October. There's an HBO concert in November. She just announced the development of an interactive DVD, based on her concert performances, that will work with Sony's PlayStation 2, and Internet companies are dangling whatever millions are left in their coffers. "She could accept 10 offers every day," muses Rudolph. That won't happen to the superstar whose moves have been carefully calculated ever since her first two albums sold nearly 40 million copies combined worldwide. But it's safe to say that after a period of laying low since hosting the American Music Awards four months ago, Spears is in the air. Aside from Madonna's tour, her only competition for attention through the summer will come from rising gas prices and energy shortages. Maybe she'll tackle those problems too. "I think Britney can accomplish anything she sets her mind to," says her mother, Lynne Spears. "She's amazing."
In one respect, Spears has already accomplished the impossible by managing to make it through the maelstrom of immense fame and wealth while remaining impressively, amazingly nice and real...right down to her offer to share one of the strawberry Pop-Tarts on her desk. "If I hadn't had a strong upbringing, I'd be lost," she says. "I know it sounds lame, but those roots make me strong." And easy to relate to. "She likes to go out to lunch, shop and dance," says her longtime friend Melissa Joan Hart, the star of TV's Sabrina, the Teenaged Witch. "Typical girl stuff." maybe not so typical. "She never went through a rough teenage period," says her mother. "She didn't even have a hard time getting her drivers license." She also cleans up after herself: "She has her pants in one area, her funky shirts in another and her T-shirts in another," says Lynne. "If she sees her dolls or angels moved, she'll yell at her sister, 'Jamie Lynn, what have you done?'" side note- hey, my mom's name is Lynn! lol How weird!
Is this the same hip-swinging vixen whose bare midriff strikes fear in moralistic parent watchdog groups? "She has one persona onstage," says her mother, "but off it, she's a sweet, sensitive, normal, all American girl."
Admittedly, that "normal" girl has grown up quiet a bit since her first album. "I'm a totally different person than I was two years ago," Spears says. "I look at some of those old pictures and go 'What was I thinking?'" Her mother had a similar reaction recently when Spears took her into Patricia Field, one of her favorite New York clothing stores, and saw the array of body-hugging rubber outfits, low-rise pants and skimpy tops. "My mom walked in," recalls Spears, "and said 'You shop here? Oh, my God.'" And when it comes to Britney's coif, her mother says, "I'm so tired of her putting rinses in her hair. Some mothers worry about their kids doing drugs. I worry she'll be bald at 20."
But Britney is a pop star, after all, and her looks is an integral part of what she does. That look instigated rumors that she's had her breasts surgically enhanced. "Thats just stupid," she says. "But I've learned that people are going to say crude thing about me, and I have to ignore it." What about criticism that she dresses to provocatively? "I don't think so," she says. "I've just been a teenager trying to have fun and singing great songs. But it's not like I dress in tube tops all of the time." Nonetheless, Lynne says her daughter is simply a natural. "Britney can't help being sexy," she says. "She can have jeans on and she's sexy." Spears now sports two tattoos --one on her back, and a fairly new one, a daisy, on her toe -- and a pierced belly button. "Getting that was just the most excruciating pain in my life," she says. Contrary to one rumor that had her puffing a Marlboro, she doesn't smoke -- but she does admit to having an occasional cocktail, either a cosmopolitan or s Midori sour. "I like the sweet drinks," says Spears. "But I don't always like the way I feel the next day." side note- about her smoking. That is false. She does smoke. I had pictures of her smoking cigarettes. I changed the format on the pictures and it ruined them, and my system deleted them. I wish I had them to show.
Then there's her boyfriend. "He makes me laugh," she says. Is she in love? "Yes, I'm very in love," she says. "He's such a beautiful person, inside and out. We have so much fun together."
Her relationship with Timberlake has invited constant speculation, particularly concerning what they do together and what they don't. As any Spears fan knows, they fell into deep like in the early 1990s, when both were in the cast of Disney's The Mickey Mouse Club. "We were, like, 12 or 13 and it was like, 'Hi, do you like me?'" recalls Spears. "It was just like puppy love."
Jump ahead a few years. 'Nsync were about to take off, and Spears was trying to launch her own music career. "I saw him at a radio-show thing," she says. "Oh, my God, I was so dorky. I had my hair in pig-tails and I was doing my performance, my routine that I'd been doing in malls."
While Spears collected fans as the hyperactive, whirling-dervish opening act for 'Nsync, Timberlake made it know that he was her No. 1 groupie. "One of their security guards knocked on my dressing-room door and said, 'Justin wants to say hi to Britney,'" she recalls. "I don't remember exactly what I said, but we talked. Though he was really shy, and I thought he was probably such a geek, he was so happy. Things worked out."
The relationship between Spears and Timberlake seemed to move to another level last year, when they attended the MTV Video Music Awards together -- though that nearly didn't happen. "We weren't going to go together," she says. "But beforehand, Justin was like, 'Isn't this kind of weird? You're here with me, and we're not going with each other.' I was like, 'You know what? Who cares? Let's just start.' And since then, we just really...like, we can't be away from each other."
Her involvement with Timberlake is another measure of her evolving maturity. For her nineteenth birthday, Timberlake too her to Palm Springs, California, for three days, after which they were joined by Spears' mother and younger sister. As a present he also gave her an entire bedroom set. Several weeks later, the two of them sneaked off to Vail, Colorado. As long as they take a bodyguard, Spears has her mothers consent to travel with her boyfriend. "I approve of Justin and his whole family.," says Lynne. "I've known him all of his life -- at least the important years. I love him." side note - Britney brought Justin a Harley motor cycle and something else but I cannot remember what and cannot remember what for lol
When asked the big question about her love life, Spears is decidedly less revealing than one of her famous barely-there outfits. "Have we had sex?" she says. "That's something, you know, I'd like to keep personal. I want to try to keep a personal life.
Have her views about virginity changed? "No," she says. She's quiet for a moment. On the whole, Spears is clear that she doesn't want to be considered a role model, especially when it comes to sex and relationships. "I just want to live my life," She says. But she's honest, too: "I want to wait to have sex when I'm married. I do. I want to wait." She pauses. "But it's hard."
Her mother stands by whatever decision Spears makes. "I told her that people always make something out of something and not to pay attention -- to just grow up and put blinders on, as long as she knows what she's doing," says Lynne. "We taught her right from wrong....She'll probably make mistakes, but when she does, I'm her mother and I'll be there to pick her up.
Spears has difficulty talking about the money she has earned. "You don't think about it," she says. "You can't." But she does spend. She invested in a two-bedroom loft apartment in New York (currently occupied by her older brother , Bryan), gave her parents a Tudor-style home on seven and a half acres in Kentwood ("That was the best feeling in the world," she says) and indulged in a white Mercedes-Benz convertible for herself. "It's never dirty," says her mother of the car. "You could eat off of it."
How much cash does she have on her at the moment? "Something like $200," she says, after checking. She went on a spree at Fred Segal, the Tony West Hollywood, California, boutique, taking home three T-shirts and a pair of sweat pants, and tonight she is headed for the record store. Otherwise, she claims, her sensibility is still Wal-Mart. "It's nice to know I can help my family out and give my little sister everything in the world," she says. "Thats cool. But I do this because I love it -- not for the money, you know?"
Still, she won't be sharing whatever talks she and Timberlake have had about their future. She laughs at rumors that they are engaged, and she scoffs at the slightest hint of marriage anytime soon. "I think we have just so much growing to do as people before we decided something like that," she says. "Why rush? Who knows where I'll be when I'm 24? I think you get married when you decided to have children, and thats way down the line for me.
First things first, and Spears' priority right now is learning to live on her own. And also helping her mother adjust to this new reality. "She has always wanted me and my brother to grow up and be these independent, confident kids," she says. "And now it's happening...you know, she's a mom. She worries."
But she doesn't have to. Because as far as Spears can see, it's work, work and more work. And that's the way she likes it. "With me, it's all about having fun," she says.
side note - This came from US Weekly Magazine. And I cut out two paragraphs of the article and didn't type them up because they were about things people all ready know about Britney, that people keep hearing over and over again. Plus it took too long to type all of this. Hope you enjoyed it and learned something. =)
---